Cedarapids CRS620S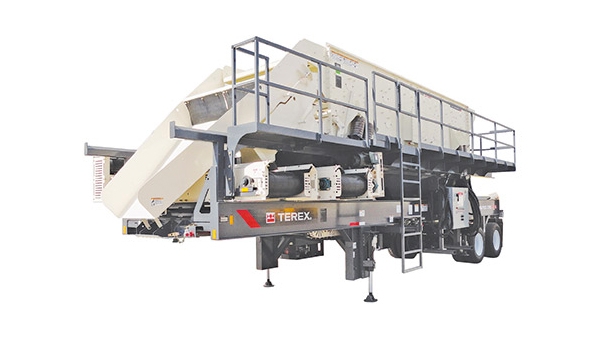 The revolutionary Terex® Cedarapids CRS620S screen plant features the next generation, patent pending LJ-TSV screen. The new screen increases production and handles applications not possible with traditional horizontal screens because it combines the legendary El-Jay™ high g-force oval stroke motion with adjustable slope operation. This plant can handle larger deck loads and larger screen openings. Screen openings up to 6" (152mm) are possible. Hydraulics quickly change the screen slope in 2.5° increments up to a maximum of 7.5° to best fit the application. Patent pending "slant spring" screen suspension provides stability at all slopes.
 LJ-TSV6203-32 heavy-duty "slant spring" triple-shaft El-JayTM oval stroke screen :

Patent-pending slant spring suspension for 0° to 7.5° slope operation ;
Adjustable screen stroke angle and stroke length ;
5/16" (8 mm) thick side plates & beam to beam braced decks ;
Patent-pending low maintenance surge dampers/ship braces ;
Patent-pending replaceable seal strips allow 4' or 5' (1219 mm or 1524 mm) wire cloth lengths ;
Patented triple-shaft lubrication system ;
QuickLube connections for TOPS 2.0 filter system.

Pivoting screen support frame adjusts from 0° to 7.5° slope :

Hydraulic lift in 2.5° increments with tool-less ratchet support.

Patented low maintenance 40 hp flex shaft screen drive :

No drive belt whip or tension idler ;
No drive belt pull affecting screen movement ;
Drive folds for travel without shaft disassembly.

Extra-wide walkways on both sides and feed end of screen :

Non-skid surfaces can be shovel cleaned ;
Spring-return safety gates and ladders on both sides.

Heavy-duty roll-away blending chutes for screen cloth access :

3/8" (9.5 mm) AR400 steel construction ;
Four section (25%) blending gates for all decks ;
Combine decks: top-center, center-bottom, bottom-fines.

Rugged heavy-duty conveyor systems :

Inclined 48" (1219 mm) 7.5 hp (5.6 kW) fines conveyor with extended discharge clearance and primary style belt wiper ;
Dual 30" (9762 mm) reversible 7.5 hp (5.6 kW) cross conveyors extend up to 42" (1067 mm) beyond main frame ;
3-ply belts with vulcanized belt splices ;
Cema C class troughing idlers and rubber disk return idlers ;
Class II shaft mount gear boxes and TEFC motors ;
Belt centering side roller guides ;
Easy access belt take-up (end pull on cross conveyors).

Heavy-duty I-beam main frame :

Tandem axle 25,000 lb (11340 kg) leaf spring suspension ;
Air brakes with spring applied emergency brakes ;
Lights and splash guards ;
Eight 295/75 R22.5 tires and two crank-style landing jacks.

Clamp bar stowage racks on feed end of screen walkway.
Extended walkway along chutes ;
Hydraulic power for roll-away chutes ;
Removable switchgear panel and frame with 20' (6096 mm) extra cable and cable wraps ;
Two crank-style rear leveling jacks ;
Four hydraulic leveling or pinned run-on jacks ;
Patent-pending deck deflectors boost screen effective area ;
Oversize 315/80 R22.5 tires ;
2" to 3.5" (51 mm to 89 mm) convertible king pin ;
Magnetic screen deck liners for cross beams and diagonal braces ;
TOPS 2.0 portable oil filter system ;
Hinged fines conveyor for export.